Volunteer Opportunities With MIRA Missions
IMPACT DAY
Impact Day are intentional service and learning experiences that help people serve others and become more like Jesus together.
At MIRA Missions, we believe in providing service opportunities for everyone — all ages, backgrounds, and locations. Maybe you want to serve, but don't have the time to commit to a full week. Maybe you have family or job responsibilities that require you to stay close to home. Whatever your situation, MIRA Missions will offer several opportunities for you to serve and bless people.
When you volunteer with MIRA Missions, you will partner with local churches and mission organizations to serve our communities. Impact Day projects may include prayer walking, evangelism, children's activities, block parties, construction and home repairs, medical/dental clinics, sports camps, yard work, and other activities that share the love of Jesus in practical ways.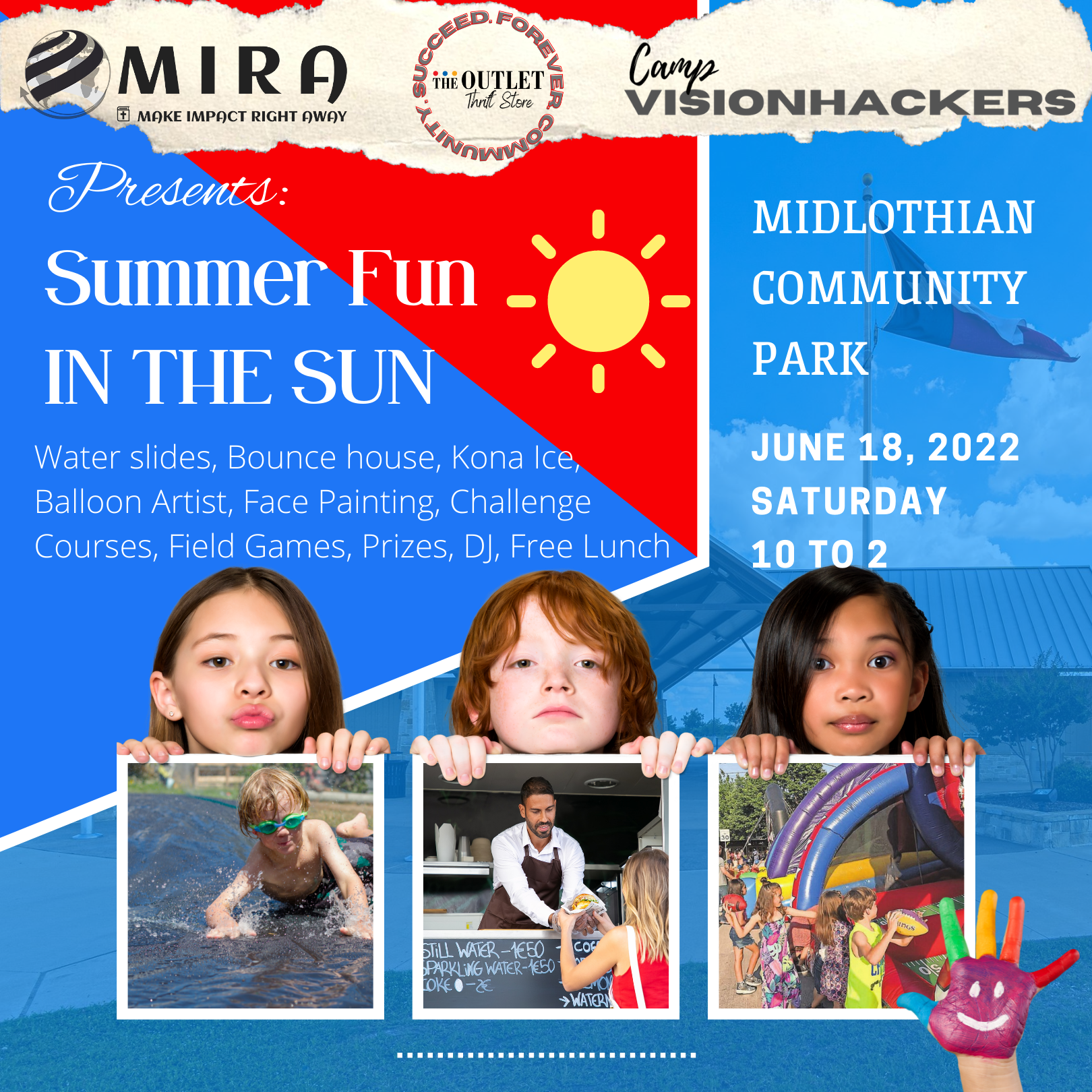 Summer Fun in the Sun
Address: 3601 S 14th St, Midlothian, TX 76065
Date: June 18, 2022
Time: 10:00am – 2:00pm
MIRA Missions, The Outlet Thrift Store and Camp VisionHackers invites you to join us for our FREE community family event, Summer Fun in the Sun. Join us Saturday, June 18 from 10:00 am to 2:00 pm at the Midlothian Community Park for our 'mini' one day camp event featuring field games, challenge courses, bounce houses, water slides, a DJ, snow cones, free lunch, face painting, balloon artist and MORE.
Come enjoy a fun day with your family as well as a time of encouragement and bonding time with each other and our community. This will be a time of positivity and encouragement for the whole family.
We have an opportunity to provide a launch-pad for families to heal, grow, learn and receive the tools they need to make positive, life-impacting changes for their family and the next generation.
The event is free for you and your family.
11 DEC | KIDS CHRISTMAS PARTY - SOUTH DALLAS
IMPACT DAY
Use the provided form to send us your Personal Information.
We will get back to you with more details.
Together we can Make Impact Right Away!